Leashes / Pull Cords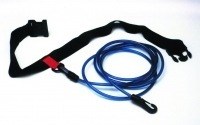 Click Image to Enlarge
#68500

SWIMMER'S LEASH
Comfortable belt attaches to pool edge so swimmer can maintain position while swimming or exercising.
10' stretch cord.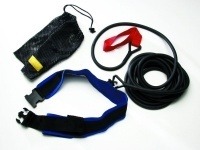 Click Image to Enlarge
#68575

TRAINING LEASH
20' rubber tubing for resistance swim out and speed-assisted swim back.
For 25 meter or 25 yard pool.
Comfort belt holds leash securely around waist.
Mesh carry bag.
Color-coded resistance levels:
Light = Yellow
Medium = Blue
Heavy = Red